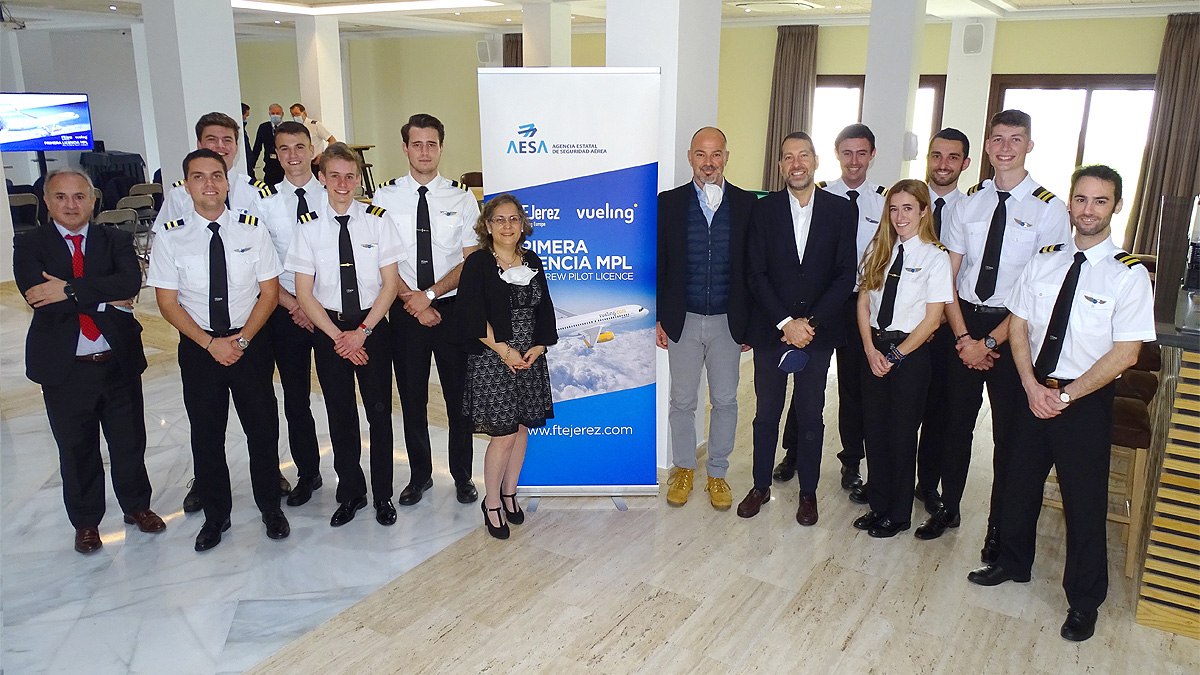 This week the Spanish Aviation Safety Agency, AESA, delivered the first MPL licences (multi-pilot licence) issued in Spain to graduates of the Vueling cadet programme trained by FTEJerez. For the occasion, Susana Nogueira, Head of AESA's Aeronautical Personnel Licensing Division, attended the school campus together with Captains Alberto Hernández Guerrero, Director of Crew Training, and Lorenzo Lucchetti, Chief Pilot for Vueling Airlines.
The MPL licence is an alternative to the traditional Air Transport Pilot Licence (ATPL) that introduces the context of a multi-crew at earlier stages of training. To that end, the MPL emphasizes advanced simulator training to better prepare cadets for the operating environment they will encounter upon joining the airline. The MPL training programme necessarily requires the collaboration of an airline, which will deliver with the final phase of the course. Each MPL programme is unique, designed according to the operating procedures and standards of each airline, requiring specific approval from the authority for each programme.
In 2009, FTEJerez became the first ATO to receive approval from the UK Civil Aviation Authority (UK CAA) to carry out MPL training alongside Flybe. Since then the academy has trained numerous groups of MPL cadets for both Flybe and BA CityFlyer and Ireland's flag carrier, Aer Lingus. Vueling thus becomes the first Spanish airline to select the MPL for the training of their future commanders.
"We want to thank Vueling for trusting FTEJerez. Thanks also to AESA, for their support to issue such innovative licenses. Finally, we would like to thank the cadets for entrusting their training to both Vueling and FTEJerez. The expectations were very high and we are sure that the cadets trained through this programme will become great FTEJerez ambassadors". – commented Oscar Sordo, FTEJerez CEO.
Susana Nogueira commented in this regard that: "At AESA we are proud to see the final result of a project that, thanks to everyone's efforts, has concluded with the issuance of the MPL licence exclusively between Spanish companies. We hope that these licences are the first of many".
On behalf of Vueling, Captain Hernández Guerrero, added that "it was a challenging decision to opt for the MPL training route for our first cadet programme, but at Vueling we are always committed to innovation. Our vision is that these cadets have been specifically trained for their future and real operations, and we are delighted with the result obtained. At Vueling, we would like to thank AESA for their efforts in applying the regulations in a very complex and innovative process. Regarding FTEJerez, there is no doubt that the excellent training provided to our cadets will sustain their careers. Our airline will now be in charge of giving continuity to this training to obtain the maximum potential from each one of them. Flying is a great passion, but an even greater responsibility".
The 14 cadets are now prepared to join the airline as first officers in the coming months.