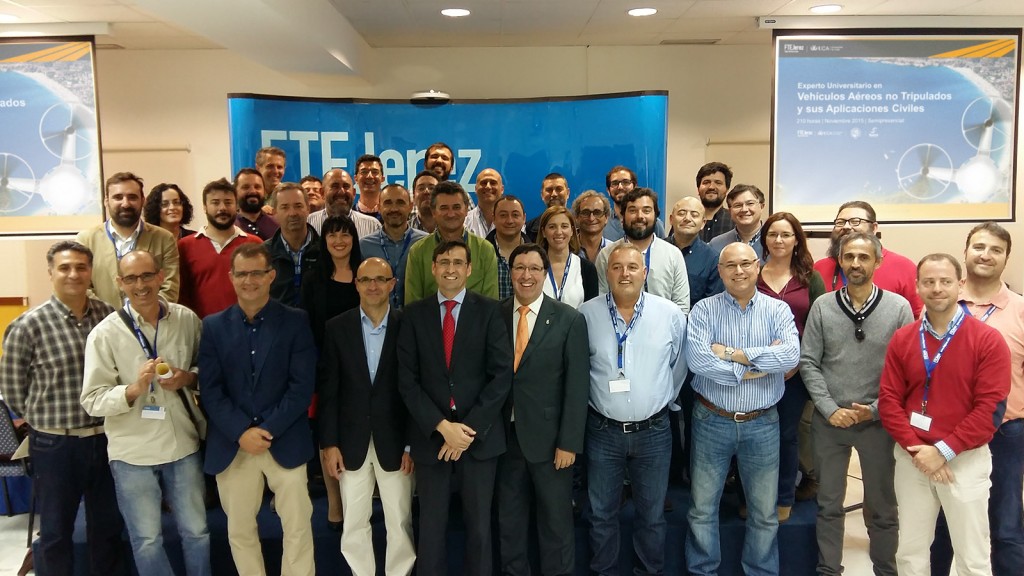 Last Friday the 13th May, FTEJerez celebrated the closing act for the first "Expert in Civilian use of Drones" university course ever celebrated in Spain.
This academic title has allowed its students to acquire a drone pilot certificate, which entitles them to fly an aircraft under 25 kilograms, and at the same time qualify with an 'Expert in Civilian use of Drones' academic title issued by the University of Cadiz (UCA).
Over 20 recognised lecturers have delivered different subjects such as aerial photography with RPAS, archaeological, agricultural and topographic applications, technical and structural inspections for engineers and use of drones for emergency situations.
The first course had over 50 students enrolled on a blended course format, using the University's online campus for the e-learning theoretical phase and FTE's facilities for the practical training elements of the course.
Before June 2016, applications will open for the second course which will commence in September 2016.
---
FTEJerez acogió el pasado 13 de mayo la ceremonia de clausura del primer "Título de Experto Universitario en Vehículos Aéreos no Tripulados (RPAS) y sus Aplicaciones" celebrado en España.
Esta titulación ha permitido a los participantes adquirir el certificado de piloto de drones para aeronaves de menos de 25 kg, y a su vez acceder al Título de Experto Universitario expedido por la Universidad de Cádiz.
Más de 20 profesores de reconocido prestigio en cada una de sus áreas académicas han impartido diferentes asignaturas, entre las que se incluyen la fotografía aérea desde RPAS, aplicaciones en arqueología, agricultura y topografía, o las inspecciones técnicas en ingeniería y la gestión de emergencias empleando drones.
Este título que ha contado con más de 50 participantes, se realiza en la modalidad semipresencial, utilizando el campus virtual de la Universidad de Cádiz durante la fase a distancia, mientras que la formación presencial se lleva a cabo durante 3 días en las instalaciones de FTEJerez.
A finales de mayo se abrirá la convocatoria para la segunda edición del Título de Experto Universitario que dará su comienzo en Septiembre de 2016.