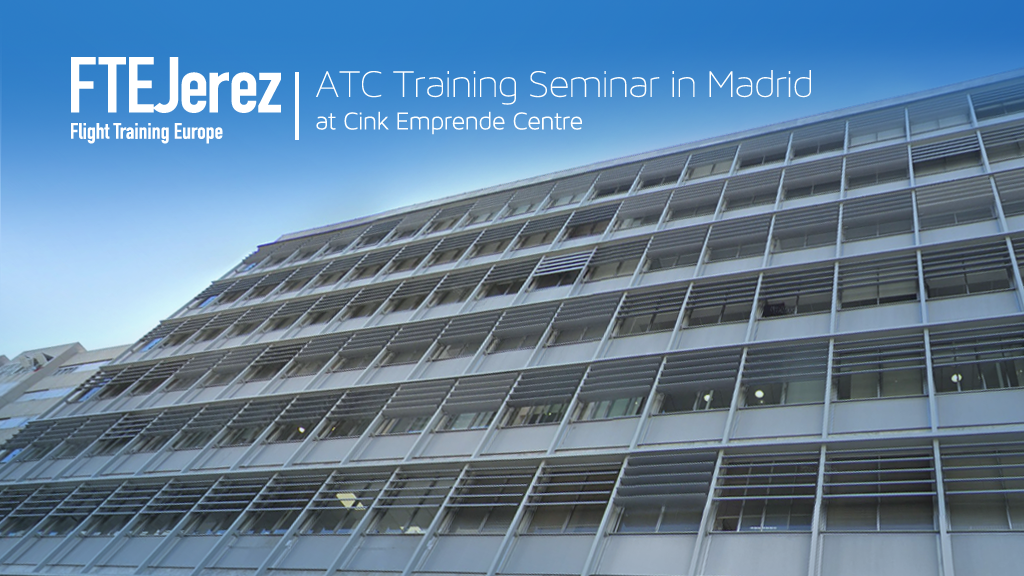 We are pleased to announce that FTEJerez will deliver an ATC Training Seminar in Madrid. This event will take place the following 23rd of January at the Cink Emprende centre, Calle de Núñez de Balboa 120, Madrid.
From 18:00 to 19:30, FTE's Head of Training, Miguel Caparrós, will provide detailed information regarding FTE's courses and their suitability for candidates selected by ENAIRE for their public job offer.
This event is a great opportunity for those considering a career as an air traffic controller and also for candidates who will be in Madrid attending the final selection process with ENAIRE. During our Information Seminars we will explain the training offered at FTEJerez in detail, including:
The residential experience at our dedicated Aviation Campus.
Our history, track record and industry milestones.
Our approach to training and team of international instructors.
The sinergies and benefits of training to become an ATC in a leading pilot training academy located in the vicinity of an international airport.
To register for this seminar, simply send us an email at info@ftejerez.com confirming your attendance.
Nos complace anunciar que FTEJerez llevará a cabo un seminario informativo de control aéreo en Madrid. Este evento se llevará a cabo el próximo 23 de enero en el centro Cink Emprende, calle de Núñez Balboa, 120, Madrid.
De 18:00 a 19:30, el jefe de departamento de ATC en FTEJerez, Miguel Caparrós, proporcionará información detallada sobre el próximo curso de Torre y Aproximación y Área así como los aspectos más relevantes para candidatos inmersos en la actual convocatoria de ENAIRE.
Este evento es una gran oportunidad para aquellos que están considerando la profesión de controlador de tráfico aéreo así como para los candidatos que se encuentren en Madrid para realizar las pruebas finales del proceso de selección de ENAIRE. Durante el seminario explicaremos de forma detallada el tipo de formación y cursos que se ofrecen en FTEJerez, incluyendo:
La experiencia residencial en nuestro campus aeronáutico.
Nuestra historia y trayectoria.
Nuestra metodología y el perfil de nuestro equipo de instructores.
Las sinergias y los beneficios de formarse como controlador en una de las escuelas de piloto líderes de Europa, junto a un aeropuerto internacional.
Para registrarse en este evento tan sólo es necesario confirmar su asistencia enviando un correo a info@ftejerez.com.