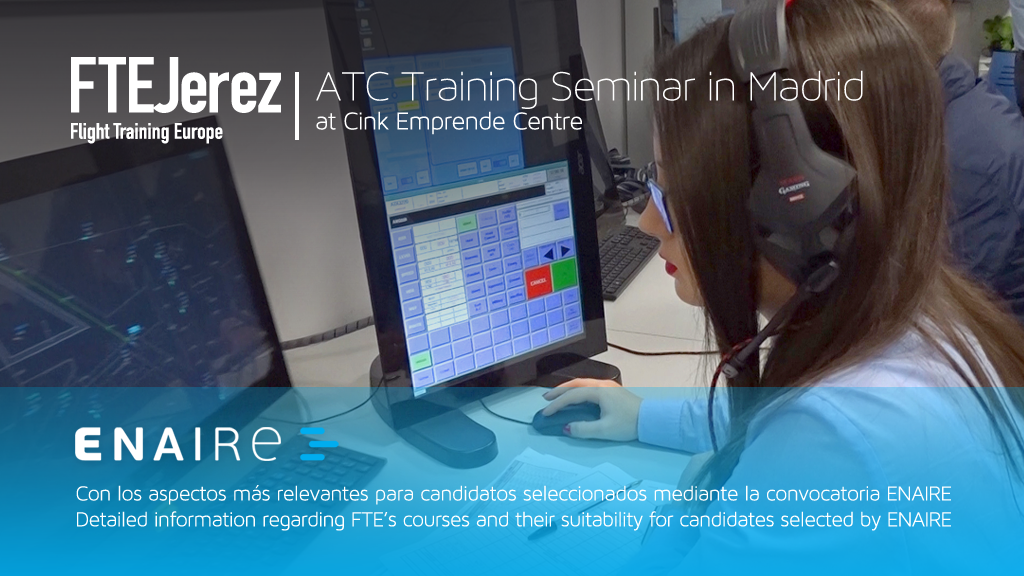 Join us for our new seminar in Madrid.
Nos complace anunciar que FTEJerez llevará a cabo un seminario informativo de control aéreo en Madrid. Este evento se llevará a cabo el próximo miércoles 27 de marzo en el centro Cink Emprende, calle de Núñez Balboa, 120, Madrid.
Ofreceremos dos sesiones, una de mañana de 12:00 a 13:30 y otra de tarde de 17:30 a 19:00. En ellas, el Jefe de Formación ATC de FTEJerez, Miguel Caparrós, proporcionará información detallada sobre los próximo cursos tanto de full rating como integrado (Aproximación y Área), así como los aspectos más relevantes para candidatos seleccionados mediante la convocatoria de ENAIRE, como son:
Formación integral en un entorno aeronáutico incomparable junto a un aeropuerto internacional.
Garantía de excelencia académica: recupera tu inversión si no alcanzas tus objetivos
Financiación: precios, facilidades de pago, financiación sin necesidad de garantía…
Nuestra metodología y el perfil de nuestro equipo de instructores.
Para registrarse en este evento tan sólo es necesario confirmar su asistencia enviando un correo a info@ftejerez.com. No olvide indicar a qué sesión (mañana o tarde) le interesa acudir.
We are pleased to announce that FTEJerez will deliver an ATC Training Seminar in Madrid. This event will take place the following Wednesday 27th March at the Cink Emprende centre, Calle de Núñez de Balboa 120, Madrid.
 We will deliver two sessions, a morning presentation from 12:00 to 13:30 and an afternoon presentation from 17:30 to 19:00. During these presentations, FTE's Head of Training, Miguel Caparrós, will provide detailed information regarding FTE's courses and their suitability for candidates selected by ENAIRE for their public job offer, explaining in detail:
 The residential experience at our dedicated Aviation Campus in the vicinity of an international airport.
Our Training Excellence Guarantee: money-back guarantee should you fail to reach your academic and career goals.
Finance: fees, ease of payment, unsecured loans…
Our approach to training and team of international instructors.
 To register for this seminar, simply send us an email to info@ftejerez.com confirming your attendance. Please remember to indicate if you wish to attend the morning or afternoon session.