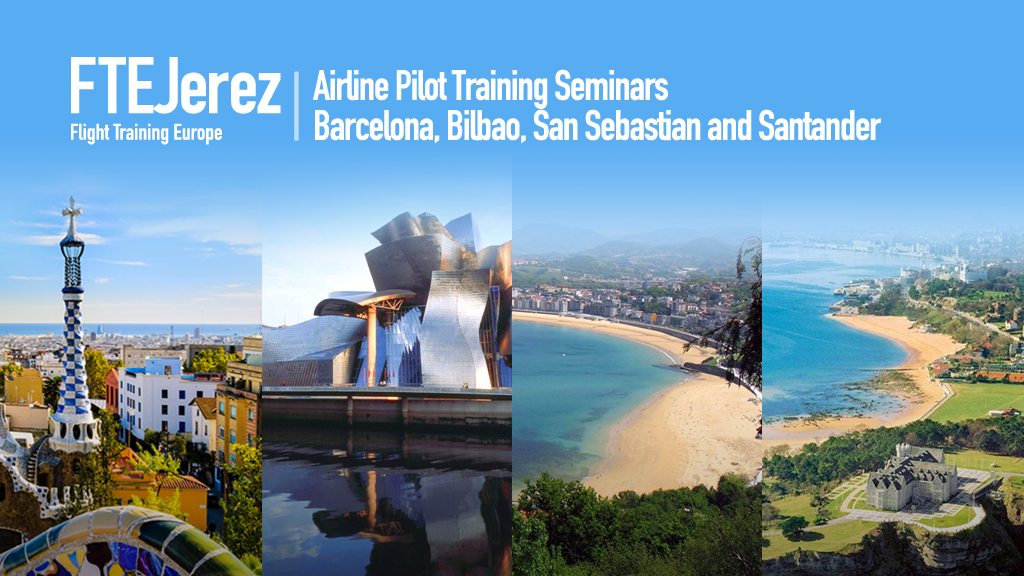 Barcelona
Date: 24 Oct 2016
Where?: Hotel Jazz – Carrer de Pelai
When: 18:30
Bilbao
Date: 25 Oct 2016
Where?: Hotel MERCURE Jardines de Albia
When: 18:30
San Sebastián
Date: 26 Oct 2016
Where?: Hotel MERCURE Monte Igueldo
When: 18:30
Santander
Date: 27 Oct 2016
Where?: NH Ciudad de Santander
When: 18:30
---
We are pleased to announce that FTE's training advisors will deliver Airline Pilot Training Seminars in Barcelona, Bilbao, San Sebastian and Santander.
These events will take place the 24th, 25th, 26th and 27th of October respectively.
Attending these presentations is free of charge. During our Information Seminars we will explain the training offered at FTEJerez in detail, including:
Our range of premium airline partners, including the partnerships with easyJet, OSM / Norwegian and upcoming announcements.
Our full-scope ATC training services, including our exclusive partnership with FerroNATS and tailored courses for ENAIRE's successful applicants.
The residential experience at our dedicated Aviation Campus.
University options for young candidates wishing to qualify with both an official European degree and an EASA ATPL licence.
How to prepare for our pilot & ATC assessments, including how to improve your level of English.
---
This event was already held. Stay tuned for upcoming events!