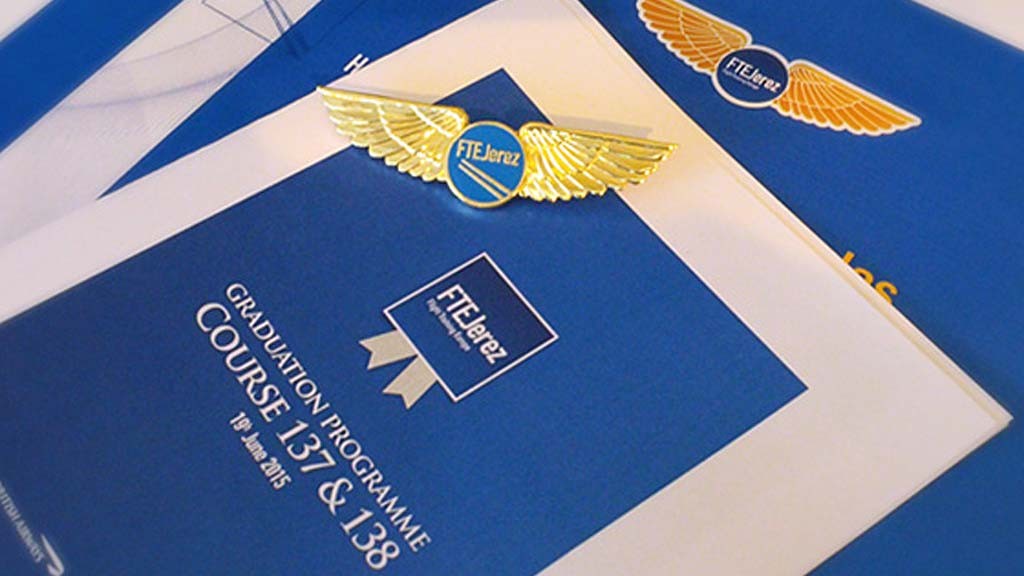 A gala dinner was held at the "Los Gigantes Bodega" in Jerez on Friday evening celebrating the graduation of courses 137 and 138. The group of 19 FTEJerez graduates included 14 self-sponsored cadets as well as 5 British Airways cadets.
FTEJerez was proud to welcome Senior First Officer Lindsay Craig, BA's Pilot Recruitment Manager, as its guest of honour at the occasion. Mr Craig, who some 11 years ago completed his Jet Orientation Course at FTEJerez , delivered the keynote speech at the occasion. He highlighted the longstanding relationship between BA and FTEJerez and entertained the audience with anecdotes and real life experiences from the cockpit. Staff and graduating cadets alike applauded Lindsay's highly motivational speech as he congratulated all cadets and wished them well in their careers, something he described as 'the best job in the world'.
Jacob Koerbel of Course 138 was awarded the Derek Smith Trophy for the Best Overall Performance as a Pilot and his fellow self-sponsored course-mate Guillermo Ruiz received the Joe McLaughlin Trophy for the Most Improved Student.
On Course 138 Sam Woodwards (BA) was the recipient of the Vic Swanepoel Trophy for the best Overall Performance in Ground Training whilst Dominic Hickey (BA) was awarded the Derek Smith Trophy for the Best Overall Performance as a Pilot.
The management and staff of FTEJerez would like to congratulate not only the award winners but all graduates on having completed this demanding course. We would like to wish them well as they commence the next phase of their careers as professional pilots.