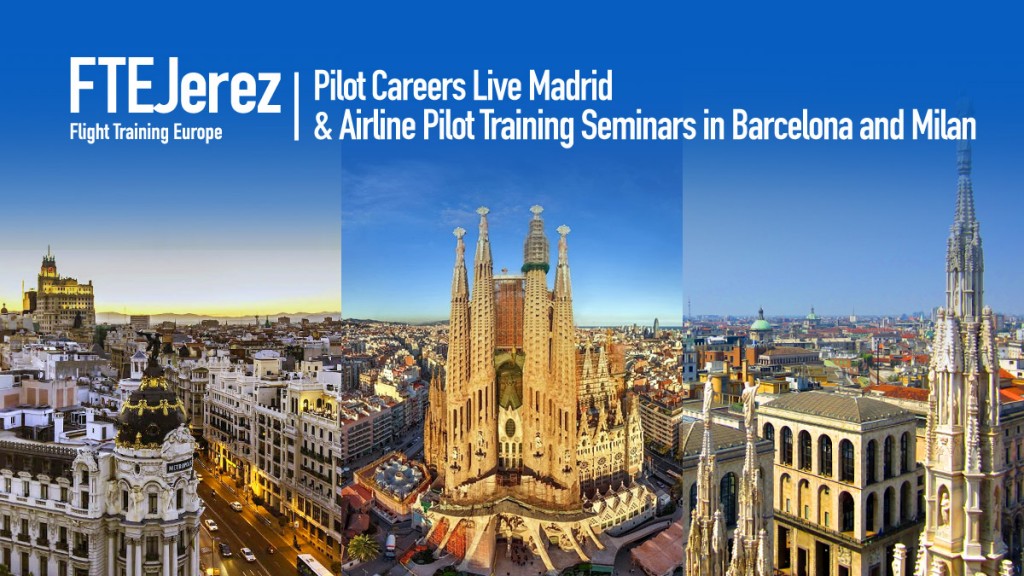 Madrid
Pilot Careers Live
Date: 7 May 2016
Where?: Hotel NH Collection Madrid Eurobuilding
When: 10:00 – 16:30
Barcelona
FTEJerez Aviation Training Seminar
Date: 8 May 2016
Where?: Hotel Expo Barcelona. Calle Mallorca, 1-23, Barcelona
When: 11:00 – 13:00
Milan
FTEJerez Aviation Training Seminar
Date: 9 May 2016
Where?: Hotel Michelangelo. Piazza Luigi di Savoia, 6, Milano
When: 18:00 – 20:00
---
We are pleased to announce that FTE's training advisors will attend the Pilot Careers Live Madrid and deliver Airline Pilot Training Seminars in Barcelona and Milan. These events will take place the 7th, 8th and 9th of May respectively.
Attending the Barcelona and Milan presentations is free of charge. During our Information Seminars we will explain the training offered at FTEJerez in detail, including:
The residential experience at our dedicated Aviation Campus.
Our history, track record and industry milestones.
Our range of premium airline partners, including the recently announced partnership with easyJet and upcoming airline cadetships.
University options for young candidates wishing to qualify with both a European degree and an ATPL licence.
How to prepare for our pilot assessments, including how to improve your level of English.
Remember: this event is free of charge, however, prior registration is required as places are limited. You can register by sending us an email:
Barcelona Seminar
Milan Seminar
If you are interested in attending the event in Madrid and wish to pre-book tickets, please visit Pilot Careers Live's wesbite here.