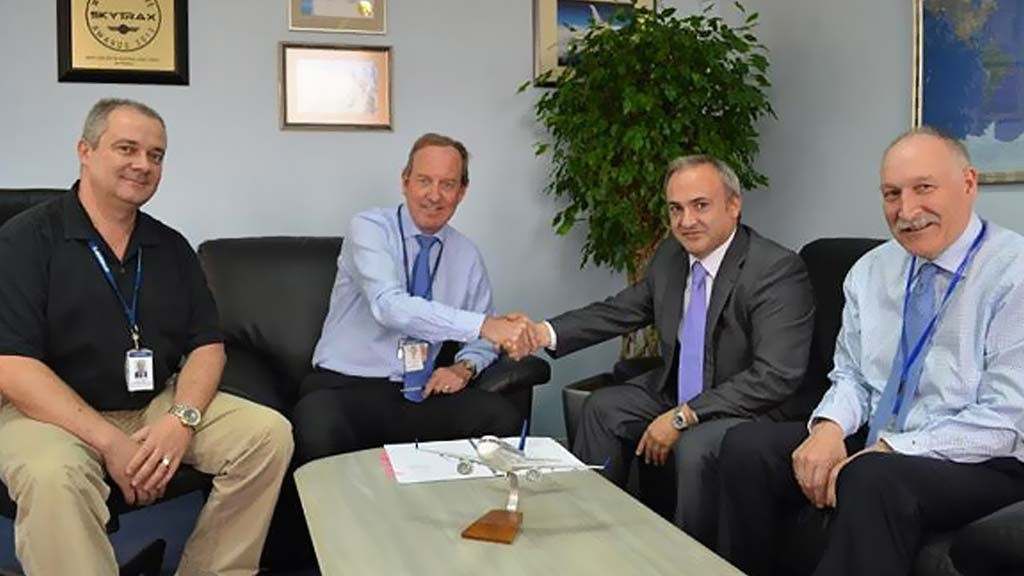 Kazakhstan's national carrier Air Astana renews its long- term training partnership with FTEJerez
FTEJerez is proud to announce that Air Astana has again awarded a tender to train the airline's cadet pilots for the next 3 years at its academy based in Jerez, Spain. For 2015 the Air Astana cadet pilots will be commencing their training during May and August and will be joining self-sponsored trainee pilots as well as cadets from other partner airlines on their respective courses.
The training partnership between FTEJerez and Air Astana has been in place since 2013 and saw the first group of Air Astana cadet pilots graduate from FTEJerez in October 2014. In his keynote address at the graduation ceremony, the airline's President and CEO, Peter Foster, lauded the graduates for their hard work and dedication during their 15 month sojourn at FTEJerez, which he described as a "fantastic and world-class pilot training facility".
Following the award of the latest tender, Captain Filippos Siakkas, Training Director at Air Astana said: "Due to rapid growth in recent years, we at Air Astana have relied on outside flight training partners to prepare, train, and meet our goal of providing only the highest quality pilots for our airline. FTE Jerez has been instrumental in helping us achieve this goal and has been able to consistently maintain the high quality standards that we demand here at Air Astana: they are more than a service provider; we see them as a true partner. Their professionalism and dedication to the highest of aviation training standards helped us build the solid foundation needed to fuel the continued growth and success of our airline well into the future".
For FTEJerez's CEO, Oscar Sordo, Air Astana's decision to again make FTEJerez their training institution of choice, "is further proof of the high regard the international aviation community has for the quality training FTEJerez provides. We are extremely proud of our partnership with Air Astana and we are delighted to be further entrusted with the delivery of only the best trained pilots to be Air Astana's First Officers and future Captains".
Air Astana joins an impressive list of leading international airlines having selected FTEJerez to train their cadet pilots. Current clients training their cadets at FTEJerez include Aer Lingus, British Airways, BA City Flyer, Emirates, Flybe and Middle East Airlines, to name but some.
Air Astana is the main airline and the flag carrier of the Republic of Kazakhstan, with its headquarters in Almaty. It commenced regular flight operations on 15 May 2002 and currently operates a network of over 60 international and domestic routes from hubs in Almaty, Astana and Atyrau. Air Astana operates of 30 all-western fleet of Boeing 767-300ER, Boeing 757-200, Airbus A320 family aircraft and Embraer E-190. It became the first carrier from Russia, the Commonwealth of Independent States (CIS) and Eastern Europe to be awarded the prestigious 4-Star rating by Skytrax in its World Airline Awards 2012 and was named The Best Airline in Central Asia and India. Both accolades were repeated in 2013 and 2014. In February 2015, Air Astana received the prestigious Air Transport World Market Leader Award.